LAND OF MALAVIEILLE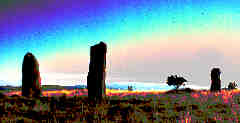 The plot of land, in which there are these three menhirs, is located, of course, on la Cham des Bondons (in the heart of the Cévennes National Park) ... but what really matters is ... his name ... a strange name ...
"the land of the bad Old Woman"
The Old Woman ! ... Always her !!!
And what really matters too, is that an other standing stone located at 2 km from there, a standing stone 7 metres high, used for the construction of a local baker's oven in 1941, was called ...
"the ..." ...
no! ... no no !!
I stop talking, I talk too much ... For more informations, please, click on the pit sawyers (homepage) or contribute to safeguard of our cultural inheritance by playing this game
...
standing stone hunter
On this photograph, with the aid of your Geiger counter, with the aid of your mouse, find the place where two menhirs are buried ... completly buried ...
*
These three keywords should be noted: old woman (vieille), Bondons and menhir
and please, let's go back to the homepage to click on the pit sawyers...