The menhir of the fertility
(Grizac - Lozère - France)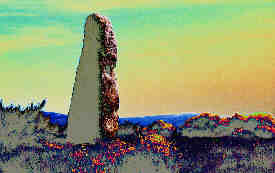 (Cévennes National Park)
According to the legend, it was an old woman who carried this stone on her back and erected it at Grizac. To have children, the childless or virgin local women gone there, and rubbed their foreheads against this standing stone... This is why the stone has three hollows on one of its sides.
In fact, all you have to do (and this information is addressed especially to the ladies), all you have to do is use these hollows to climb this granitic phallus, and to sit astride on the top. And so, "comfortably installed", you can see on the horizon (at 10 kilometres from there) the top of a hill ... a very beautiful hill located on la Cham des Bondons ... a very nice breast ...
this one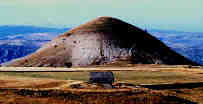 These five keywords should be noted: old woman (vieille), fertility, Bondons, breast and phallus menhir ...
and please, click on the hill of fertility (below) ... or the prehistoric statuette (also below)...